Hi guys,
Glad to be here
I've just came across BaZi two months ago and since then, after reading a couple of basic books, I'm very fascinated by it. I have background of Jyotish and Western Astrology and getting to know Chinese metaphysics for very first time is just so new and exciting. And of course, as every newbie there would be many challenges to overcome. My first one was to determine which of the two possible charts I got is the more accurate one. So what is this about?
I'm born few minutes after midnight, so as you know, this happens to be in the controversial for some Rat Hour, where it's divided in two halves. As far as I've understood, I hope it is correct, the classics used the 23h mark for new day, where (after the British influence) the modern split the original Rat Hour in two so it can fit in the 00h mark. This difference sometimes cause people who are born in the border of these two, to get two different DM, which will produce two different charts.
In my case, when using Sean's BaZi Calculator with my original data, I get this chart, where DM is Yang Water - Yang Wood Tiger as shown bellow: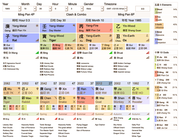 When using other BaZi calculators with true solar time (via place of birth) with Rat Hour rule I get the same DM. However, when NOT using the Rat Hour rule, still with TST (True Solar Time), I get second chart with Yin Metal - Yin Earth Ox DM. Basically I get two charts: oner of the previous day, before 00h and second after that. Here is the main thing, which one is more accurate.
While reading the basics of BaZi I came to the understanding that Qi is transforming the energies from one form to another and it is a continues process, so it make sense for me to think that the chart of the previous day is more accurate to me, since the new day has just begun and still it's in transitioning period where the both days over cross. I'll appreciate if anyone or Sean give their comments on that, how do you approach those cases.
To be able to get the chart of the previous day by using TST with NO Rat hour rule in Sean's BaZi calculator, I just needed to put the corrected time instead of my original data and that's how i got it as shown here: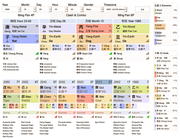 Comparing and reading more about these two DMs makes me feel that Yin Xin DM is more accurate and right for me. For instance, I used this article of Sean for another reference, since the case study chart is very similar to mine as shown here:
https://www.masterseanchan.com/case-stu ... npolished/
The woman has Yin Xin DM with too much Earth as resource element and not enough of Water, Fire & Wood to balance it. The presence of Water in the hour pillar is the same as mine and when I read
The most critical element in the chart is Water which appears as zi water in the Hour Branch, but unfortunately, the presence of Water is weak here and under a lot of pressure from the overwhelming presence of Earth. One other major flaw is that this chart ideally needs Wood to appear to control Earth, but the only source of Wood which appears is in the Month Branch of wei which is the Wood Tomb, meaning Wood is already close to being extinct.

Earth's assault on Water here will manifest as a very troubled mind and emotional state because that's what Output 'gods' represent, and because there is no presence of Wood in the natal chart, this assault on Water will continue to happen.
I got another tick in the Yin Xin DM checkbox. I have very similar problems and experiences as mentioned so I'm not surprised to read such outcome of the chart mentioned. Of course my chart is a bit different and has other attributes as the Ox-Dog-Ox combo, which is very harsh, it is related with my parents and grandparents history. More I apply everything I read to my Yin Metal chart it makes so much sense.. Unfortunately I have no means to afford professional consultations, so I'm trying to learn it myself so I can understand how to solve the whole puzzle. I have a lot of questions, regarding my own chart and in general. I hope I'll soon find the answers.